July 26th, 2015
One size doesn't fit all.
When we announced a change to the screen size that Earl uses we expected backers to be excited, not exactly. Making the switch to a new manufacturer gave us a chance to re-assess our design and figure out what could be made better. Frankly, the use of the walkie talkie was difficult in the form factor the 6" display. The smaller screen we were looking at was easier to hold one handedly, however due to the flexible back pane, its cost was slightly higher. The panel also lacked a frontlight and touch panel, each would require more time to develop. While something smaller might be ideal for someone on the go, readability while navigating offline suffered. For that the 6" screen is much better, after all, we pitched Earl as a backcountry tablet.
We jumped the gun and after Netronix sent us their initial assessment we decided to stay with the 6" screen. Our new hardware team has been putting together a design using new components based on a combination of quality, cost and low-power consumption. We're still assessing what to do with the walkie talkie module, early versions didn't meet our expectations. Aside from excessive heat and power consumption, signal strength should be much better than what we've been able to produce. We have concerns whether the current design would pass certification, so we are searching for a replacement. We're also pushing for an upgrade from our current i.MX6 processor to the recently announced i.MX7 Dual, though this requires support from Freescale and may add development time, fingers crossed.
Aside from the electronics design, Netronix is also working on Earl's mechanical design. One of the biggest draws for Netronix is their capability to waterproof electronics using HzO's WaterBlock nanotechnology that bonds directly to the PCB. We'll combine that with a rugged shell for protection in practically any environment. Due to heat concerns, Netronix recommended to move the solar panel to it's own system with battery. This allow the device to continue to be used while panel is charging. Though these are a bit old, here's an initial idea Netronix presented us with for the new design:
We've been reluctant to update backers, let alone our aging website, while we shift directions with the new design. It's been a little bit like Groundhog Day, this time last year, like the year before, we figured we'd be in the backcountry using Earl. Though we didn't plan to spend this summer redesigning Earl again, we're confident we're on the right path with our new partner.
April 5th, 2015
In the years we spent working on this device, no company has stepped forward to make a device like Earl. A full reboot is refreshing, Netronix bring years of experience and expertise to the table. To start, we broke down features into primary and secondary. What could we remove? How can we make speed up development while reducing costs to achieve the same goal? Netronix suggested that we go with a modular solution.
The idea is simple, a basic unit with gps and environmental/locational sensors with a removable radio module. This would allow us to certify the module once and not worry about future design changes on our device. A detachable solar panel with second battery would allow for charging while the device is in use, also mitigating heat issues with the core system. Modules give users a choice in the features they need and/or want depending on the occasion. The modular port would support Earl's walkie talkie, AM/SW/LW radio and anemometer. Trying to fit everything while keeping the device functional is challenging. We discussed similar solutions with Onyx in the past, but Netronix was proactive and suggested this solution from the start.
While using a 6 inch screen was our original plan, we've found a rugged tablet in most scenarios required the use of both hands. Other than reading guide books or maps, almost every other feature functions better on a smaller display. We made an executive decision to go with a flexible 4.7" screen from Eink. We like the idea of a handheld unit much better for use on the go. Bear in mind this was not a change we planned until we started discussing things in depth with Netronix. We want a device that suits the needs of our users in the field and we can reach a much larger base of Earl users with the smaller size. We're not opposed to building a larger Earl in the future, but in the market we are facing, we need to go head to head with the devices already available to consumers.
Perpetually traveling with the laptop always open has been very taxing on my life. I never expected to spend the last two years living out of a carry-on. I don't have a positive sentiment towards updates. The routine of apologizing, updating and reneging promises bothers me. So many parts come to play when working on a project of this scale. I often place connecting with our backers to the side. We don't always have the answers to give, but two months between updates is unacceptable.
While we wait for a preliminary design from Netronix, we're working to setup a new office here in Seattle. Working remotely with the new team will be much more manageable and it looks as though I won't need to fly as much. My next trip to Taiwan shouldn't be until the end of May. We expected to grow into a company like Netronix, but with this opportunity we'll have to hit the ground running. Development costs have effectively doubled, not only do we need more funding, we need more customers. We're planning to spend the next couple months putting together a dedicated marketing, sales and support team. We fully intend to fulfill our promise, though components may have changed, the original idea is still here. We're pushing forward and with your continued support we'll be able to finally bring Earl to life!
Note, it's rare that a company like Netronix opens itself to the public. We're hoping to document the process better than we did the last time, unfortunately facility pictures are something that need scheduling ahead.
January 27th, 2015
Hello? Yes we're still here! It's been a grueling quarter for the Sqigle team and very stressful to say the least. Though Earl's hardware is near complete, it's a bit of a gamble to proceed with the current design. We're worried about shifting to the production stage without the support of large scale manufacturer. Most components are working properly. We've located and fixed most of the RF issues, though whether or not we will pass certification is still a major concern. Without having a third party assess our design we may end up having to re-test or re-tool should any issues arise later down the road, wasting valuable time and money. Onyx has expressed its position and after much discussion we agreed that it would be best to enlist the help of a true EMS (Electronics Manufacturing Services) firm. These are companies who have experience with design, testing, sourcing, manufacturing and fulfillment. While finding a new partner at this stage isn't exactly what we want to do, it's what we need. For now Onyx will be stepping back and assisting our new partner with the handover of Earl's development. Hopefully with bringing on a larger more experienced partner, we'll be able to nail down a timeline that can be followed, but at this point Earl's release date is a moving target. On the software side, we've been working closely with our Indian team with our Navigation and Appstore applications. One big hurdle we finally crossed is working animations on Eink! Though we're still working out the kinks, the videos below show how good scrolling around a map can look when using Earl while navigating. We know many of you are eager to start development on applications for Earl, we don't quite have a proper SDK from Onyx at the moment. Many of the API's used to control the components in Earl haven't been properly implemented and thus not ready for public release. The good thing is that implementing animations and controlling the Eink screen will be much easier than before and should allow for virtually any Android app to function as normal. Here's a couple quick shots showing the before and after of implementing the new animation technique on our navigation application.
October 18th, 2014
Simply put, Earl's delayed. There's never an easy way to spin bad news. I cringe at the thought of announcing each of the delays we've faced over the last 18 months. I like to have a clear solution before presenting others with our problems. Early on in this journey, it became apparent that we needed help to get it right. We partnered with Onyx International, a specialty e-reader manufacturer from Guangzhou, China. Without them, I don't think we would have ever made it this far. Sourcing individual components, while possible, is a complete nightmare without someone with experience. However, the scope of this project has presented so many unforeseen issues that we've all had to push ourselves to come up with creative solutions. Following our last post, our hardware team informed us that Earl's shell had a 40% chance to survive a substantial drop and remain sealed against outside elements. The solution, add some bulk. Unfortunately, that means certification and tooling were put on hold. During development we relied heavily on the opinions of their in-house engineers. What we needed was a third party with experience developing rugged devices to evaluate our design during the past year. I was in Delhi with our software team at the time I learned of the issues and upon arrival in Hong Kong, rushed to our hardware team to discuss our options. One thing was clear, neither party wanted to proceed to production with the current issues at hand. I had three options, continue with Onyx and adjust our design to meet the standards initially requested, proceed with our current design and use a different manufacturer, or throw in the towel. I can't think of a moment where I felt more scared in my life. Issues and delays have plagued this project from the beginning. Never once did I expect this project to take so much time to finish. We could have it be a total waste or push on. Going with a new partner could have sunk us even further. Onyx has become family to us. Though we may not see eye to eye on everything, they've brought my idea into reality, together we're a team. It would be really hard to build the kind of relationship we have with another firm. So we acknowledged our faults and went back to work. Like myself this past year, Earl's put on a little weight. Earl's shell is his armor, the protection needed for the outside elements. We thickened the walls of the shell while recessing the E-ink screen and solar panel for better scratch protection. Though Earl's internals were complete and ready to certify, we still had to adjust our PCB for the new shell design. The extra space provided room for a larger ceramic GPS antenna, battery and speaker box. So they were all redesigned as well. All of this takes time. While the team was working on the redesign, I was back in the states to build the team that will support Earl through to the end. Back in June I was picked for a climb up Kilimanjaro with a team from the Web Summit Dublin. They never officially announced the climb, so we held it back. I spent a good deal of time preparing for the climb set to begin of October. Unfortunately, due to the current crisis in Africa, the organizers decided to cancel the climb. Though with all the recent developments, this has been sort of a blessing. Because of this, I only scheduled a few days at the end of September to meet with Onyx. Upon my return I was presented with an updated design, but unfortunately our new PCB was a few weeks away. The good thing is that because we are just refitting our existing design into the new shell we're pretty much where we left off for certification. Unfortunately the 1st through 7th of October is National Day in China, the whole country tends to shut down for business. With so much going on, I headed home. The new PCB should be ready in the next couple days, along with the new shell, but I'll have to wait until the end of the week to see the progress when I fly back on Thursday. In addition to the climb, our team was selected to showcase Earl at the Web Summit conference in Dublin from the 3-6th of November. To prep I've spent a great deal of time bringing on additional bodies to help with the business and customer sides of Earl. This has allowed me to spend more time working with our software team. They're nearly 12 hours ahead of the USA, so communication can be challenging. Development has been cruising along and though we've nailed down most of the functionality of our navigation and radio applications, some of the visual elements do not quite meet our expectations. Since we have some time before we start shipping, I've been working to fine tune the look and feel of our software. Simple, clean and intuitive. There's still a bit more to go, and it's part of the reason I've been slacking on the updates. We have less than 3 weeks to have Earl ready for Dublin. It will be the first time Earl has been in the public spotlight and needless to say I'm a little nervous. So what happens next? Things are looking good on the hardware side, if the new PCB and Shell meet our expectations this week then we can keep pushing forward. So certification? We are extremely close, but I'd expect at least one additional iteration after this. We want to send this next board to an independent lab that can test the shell for durability and analyze the antenna radiation patterns before giving it the go ahead. If all goes well, then we're going to push it back into the certification and tooling cycle we had mentioned in our last update. Are you going to be in Dublin during the Web Summit? Let us know! We'd love to have you finally meet Earl!
August 10th, 2014
ABC, August: Begin certification!
This time last year, I was certain I would be spending my summer on the trail with both Earl's by my side. Updates sound like a broken record I'm sure. Each time, another delay. The last instance where we provided a public visual of our progress was just under a year ago. Ever since we've struggled to present a proper timeline that accurately estimates the completion and fulfillment of orders. We've faced numerous challenges and delays. Managing a project of this scale and budget requires coordination of all our team members. I can't thank them enough for all the work they've put in. Unfortunately we've still got a few hurdles left. Before I dive in to the details, please take a look at our current timeline for reference.
When we posted a timeline last August we presented the information given to us by our hardware partner. We were definitely being optimistic, we pushed and pushed, but many components to development are reliant upon each other. Currently we are just finishing up Hardware development. The last iteration was around 99% complete. This final revision is all about adjustments, including revising the design of our touch panel. The major issue we have been facing with our touch panel is the FPC that connects it to the board. The touch panel would disconnect from the board, requiring us to disassemble and reconnect. This became more apparent as we brought more units into the wild. Particularly the ones that we sent to our software development team in India. A revised version was expected by the end of this coming week, however Friday our team mentioned that it will now be ready on the 23rd.
Our walkie talkie module arrived as expected, however upon installation, we realized the volume out on the the unit was not being fully amplified. We were lucky to have a meeting with the radio manufacturer to discuss this issue as well as production and since then we've had pleased with our communication with them. They immediately started working on a fix and sent us a replacement that we have in our office now.
Since major adjustments have been completed we can finally begin tooling. Tooling is about four phases, the first being around 6 weeks, with additional phases of around 2 weeks each. This is big news. From here there can be NO MORE CHANGES! The tooling facility will be assessing our design over the coming week and should everything check out, we'll begin the following week.
If the touch panel issues are resolved, we can finally go to certification. Pre-testing is underway, however a few details have presented themselves as we start to define the list of required certifications for each region. Previously we had done our research for the FCC, but since testing each region separately can be costly, we decided to certify all at once. We ran into a couple roadblocks, we decided to pull support for these PMR446 in Europe. CE only allows radios with 0.5w power with an integral antenna, voice only and no data. These requirements sort of kill communication the features of Earl. So for Europe we're still releasing a VHF/UHF (2m/70cm) radio, however take note, users are required to be licensed. For Australia and New Zealand, Earl will be available in two editions, a UHFCB radio, open to anyone without a license as well as the VHF/UHF variant which again would require operators to be licensed.
For the USA and Canada we'll be releasing both a Part 90 certified VHF/UHF radio for licensed amateur radio operators as well as a Part 95a GMRS version for the use by the public. Officially, per FCC rules, GMRS does not allow data transmissions. However there has been some adjustments made for existing radios that meet certain requirements and waivers have been granted. Specifically the Rino line of GPS enabled radios by Garmin. GMRS radios that wish to transmit F2D data are limited to text and GPS messages over the 462 mhz bands. Though there is no guarantee that we can receive the same waiver, I spent the last week going back and forth with our testing facility discussing possible options. We plan to test for the MURS frequencies as a backup, that way we can still release a public version of Earl in the USA and Canada.
All units, no matter the region, will be locked to their respective firmware. Current backers will have the chance to pick the region of choosing prior to fulfillment of preorders. If all goes well, and certification actually starts on time, we expect Earl to be officially legal for sale around the beginning of November. Coincidentally that's about the time our final tooling phase is completed as well. While certification gives us the green light to go to market and release Earl into the wild, we need to run a pilot production run. During the last tooling phase, we'll be running a quick sample of 100 pieces. Depending on the status of certification, we may end up sending a few of these units out to backers that meet licensing requirements and/or reviewers around the globe to test and provide feedback of any issues in the final version. Theses are units are basically ready to ship, however being the first units off the production line, minor adjustments to the assembly process may be needed so we've left some time to optimize the process to ensure mass production goes off without a hitch.
Being that hardware is essentially complete. I took the opportunity to fly out to Delhi to meet with our software development team. They've been working hard to get all the features we need integrated into our application. They've been given demo units to play with, however the same issues we faced with our touch panel has plagued a couple of the units. I'm here to make sure units are working properly as well as update them with firmware that enables some of the API's used for the walkie talkie. My hardware team mentioned that Kit Kat should be ready sometime later this week. I'm also here to discuss some changes to the interface. With so many features available offline, Earls UX really needs simplicity, so we spent the better part last week running through some new designs to test out. This week I'll be meeting with the other half of the team working on the developer portal, which includes an App Store for EInk ready applications, games and media. We want users to have a seamless experience. Originally we planned to switch our website over to Shopify with Zendesk for customer support. Though we may still, we're going to be discussing the possibility of integrating our main page, shop, help desk, forum, map/app server and user accounts into a single product. I don't want the project to get more complicated than it already is, so we'll take a good look at potential scenarios and budgets and choose the most suitable option. I'm here until Thursday evening, then fly back to Hong Kong to meet again with our hardware team before heading home to Seattle next week so I can enjoy a few weeks testing Earl in the alpine meadows of the North Cascades.
We're wrapping up development, but work doesn't stop there. One of the big reasons I'm headed to the states is to prep for funding this fall. Since we originally ran our campaign, we done virtually zero marketing. The idea was to finish the project before taking on additional sales. Our initial order for production is around 5,000 units, preorders so far amount to a bit less than half. Though we plan to hire a team to start promoting our product to retailers, we've been toying with the idea of running a second round of crowdfunding through Kickstarter. With Earl certified and ready to go, this could be a huge boost in the number of sales for us and publicity as well as help us some additional funds for future development and support. In addition we've spoken with a few VC's but have held off taking major investment until we had a final unit to showcase. The plan is to initiate a round of funding this coming October. Though Earl is a niche product, there's definitely a market for a tablet that connects the offline world.
We've made a lot of promises, some features have changed and delays have been numerous, but there is light at the end of the tunnel. We're getting close, if all goes well, we're very confident that every backer will have their unit in hand before the holidays. We cannot express our gratitude for your patience during the last year and a half, THANK YOU!
July 1st, 2014
One year in. Is Earl ready yet?
It's been a grueling month for Team Earl. The last few weeks has been frustrating to say the least. After a brief trip back to the states to renew my Chinese visa and spend time with the real Earl. I arrived back in Shenzhen expecting to move right into certification, as I should have guessed by now, there is always something that's not quite ready.
While the final iteration of Earl's walkie talkie was set to be completed back in February, the team contracted to develop and manufacturer the module has been less than satisfactory. Though we've tested a few iterations since the last module we received at the end of May, the walkie talkie still had further changes required to interface with Earl. We were promised the final module would be ready upon my return from my trip to the States around the 15th of June. No dice. I arrived back on the 18th and was assured of its completion by the 5th of July. Yesterday I was made aware of yet another delay that has now pushed it's delivery until the 11th of July. This is the last major piece we need to proceed with certification.
During my trip to the states our Shenzhen team spent a good deal of time testing and reworking the placement of antennas and RF shields on our pcb. We also received our new walkie talkie antenna that allows for horizontal and vertical positioning. We've had samples in the past, but this is the first time I've used it fully functioning and attached to Earl! My job back home was to run a few additional tests as a last verification of the AM/FM/SW/LW and most importantly Weather Band, a system that is not available in much of the world, including China. We had verified our design with the chipset manufacturer however real world verification is not available in Asia and something that was on my list of to-dos for the States.
The end is near. It pains me to tell our backers of each delay. While some are of our own mismanagement, other delays are the outcome of issues with communication with our team. Our Chinese partners are keen to estimate delivery times on the short side. By this point, I and my team must sound like a broken record. We've been reluctant to post official updates until we are satisfied with progress along with suitable solutions to the problems we have been facing. I recently sat down with each of our team leaders including the CEO of the firm we've partnered with for Earl's development and expressed our concerns of meeting future deadlines and communications with our team.
Though a few last minute tweaks to components like our walkie talkie module are underway, the last major step is certification. We've been working with a couple testing facilities in Shenzhen during development. We're tackling multiple certifications at the same time. FCC for the USA, IC for Canada, CE for Europe and C-Tick for Australia/New Zealand. With all components completed and in-hand we can start the certification process. We've been running in-house testing this whole time, but before going to the main event we need to have our testing facility run preliminary tests to make sure Earl is within certification limits. The team has a proven track record with existing devices on the market however they anticipate a few tweaks to be changed to the current design before starting officially testing. The current schedule, which leaves room for tweaks sets certification at the end of July.
While there is an express certification for the FCC, other standards are not as lucky. Only a handful of testing facilities are approved for going the express route and normally this is a choice for larger, more experienced firms. I'm pushing for this method and will know after our preliminary tests if this is an option for Earl. Just how long? Express, 2 weeks. Standard, 8 weeks. Estimated completion, end of September. Manufacturing and fulfillment would potentially take place in October. But we won't know until we get the green light from our certification facility.
Obtaining certification isn't the only hurdle Earl faces in the coming months, production comes with it's own timeline. We had a very interesting call with PVI (Eink's parent company) this week. It seems that PVI has been having issues with manufacturing flexible plastic screens. Earl is actually the first device to use their flexible 6" screen in production and we are paying a significant premium above the cost of their glass counterparts. They've made great strides in accommodating Earl in their portfolio and designed a flexible screen exclusively for Earl. Our representative tried to sway us to use the existing glass screens as they would lower cost and allow us to piggyback on currently production runs. The argument of durability was briefly discussed and lasted approximately three screens. Glass screens are no match to even the slightest bump without multiple protective layers on top. Our initial order of 5,000 units barely meets the minimums for a production run, but after our discussion PVI seemed very excited to move forward with Earl!
The time between this update and our last one even surprises me. I expected to update everyone sooner, but without any confirmed progress I was reluctant to post anything official. Around the time of our last update I began to make regular appearances on our forum, to those that tried to sign up months ago, we've fixed the login issues. Come over and join us for discussions about Earl's progress!
forum.meetearl.com
Happy "Hong Kong Special Administrative Region Establishment Day", the anniversary of the handover of Hong Kong from the UK to China. It was very special to spend the day with over half a million marchers in support of the movement towards a democratic Hong Kong. Hong Kongers like Seattlites aren't afraid of a little rain!
May 8th, 2014
May we introduce EARL!
The last month has been a whirlwind for us but we are stoked to share the latest on all fronts.  I'm sure you will all be happy to hear that we have our manufacturing sample ready for inspection! The shell, capacitive touch screen, solar panel, and PCB are all ready to go. Holding a (nearly) finished Earl is something special. There's still a few more tweaks to go, including placement of some internal antennas and shielding of the environmental sensors. It's so great to finally see all of the handwork that's been going on in China come together. Feeling the final weight in our hands while seeing the screen light up is a little surreal, to say the least. Here are a couple videos for your viewing pleasure:
Our team in Shenzhen has done a tremendous job of pulling together a completely custom device. They have come up with creative solutions for every issue we've encountered along the way. But we aren't completely out of the woodwork yet. The firm that has been developing Earl's walkie-talkie has had a few issues while debugging the final version of our VHF/UHF transceiver module. Until we have the final version in hand, we can't begin the certification process. As soon as they resolve these issues, the module will be sent out for testing and certification separately as well as together with the full system. We're expecting the module by the end of the week.
The good news is that this delay will give our hardware team more time to update to the latest version of Android. During development we've been using Android 4.03 as our base system. Since most of the electronics have been completed, sans walkie talkie, we're now updating and optimizing Earl for Android 4.4. This is great news for our software development in general. We recently met in person with our application development team in Delhi, India to go over all the details of Earl's application layer. We spent the majority of the week going over every specific of our software suite and assessing their progress. They're working hard to integrate localized applications for offline use with our distribution and data backup servers online. We're also building a custom app store so users will have access to a special catalog of applications, add-ons and books/guides that are Earl ready!
Having the amount of features and sensors that we have poses a unique challenge in creating an interface that is both clean and simple in terms of providing essential data, but also gives users the ability to customize their device to accommodate their needs. Earl's software suite is going to be huge and has potential applications for all kinds of activities. We will have an update showcasing a lot of these functions and demonstrations of the interface in the upcoming week.
We know a lot of you have been waiting patiently for updates to our website. We apologize for the delay, we've been a little preoccupied with finalizing hardware and software development. There's been a few options for integrating backers accounts to a new system, we settled on Shopify to help us manage current and future orders and fulfillment better. Version 1.5 should be up shortly along with a fully integrated help desk that is much more user friendly than our current system. Version 2.0 will integrate Earl's application suite with our website. Users will have ability to manage their accounts, integrate with social networks, and a personalized space to analyze their routes and data. 
Finally, most of you have been kind enough to vote for us in the Summit Kilimanjaro competition. We are really honored and excited to be chosen as one of the finalists. The potential exposure could be tremendous for Earl. If you haven't already, please take a moment to check out our entry and click the Like button so that your vote will count.
http://thesummit.co/kilimanjaro/nominees-alpha#entry-408
Please share with friends and family, too!!!
We can't do any of this without your support and we can't thank you all enough for your continued patience. 
May 7th, 2014
Meet Earl at The Summit!
We have just received some incredible news!  Out of over 1,500 applicants, Team Earl has been selected to the second round of 100 semi-finalists to compete for a spot at this year's The Summit Kilimanjaro. With your help, we could be one of the 3 startups that will be chosen to participate in this once in a lifetime trip to climb Mt. Kilimanjaro and help out charity: water in the process. 
It goes without saying that this type of exposure would be HUGE for Earl.  If we are selected, we'll have the chance to share Earl's vision with leading tech entrepreneurs, visionaries and investors. We will also be invited to share our story on the Main Stage at The Summit in November.  
We can't stress how important this opportunity could be for Earl. Please take a moment to check out our entry and vote for us by liking our video! 
http://thesummit.co/kilimanjaro/nominees-alpha#entry-408
If you really want to help us out, please spread the word and share this link with your friends and family. We appreciate all of your continued support and can't wait to take Earl all the way to the top! 
April 4th, 2014
We are happy to be entering into the home stretch of hardware design. Even though this past month has been a bit more challenging as we pull the final components of Earl together, we are getting ever so close to the finish line. With each new difficulty we encounter, we feel the device has become even better with every solution. 
As we mentioned before, we switched from an IR touch screen to a capacitive touch system to ensure better weatherproofing and improved glove support. Well, we recently got some hands-on (or should I say, gloves-on) time with the TrueTouch capacitive touch system. This final version is customized especially for Earl and we were more than pleased with the functionality and responsiveness of the system. No more holding your glove in your teeth while you try to use your device before your fingers go numb!
Another challenge we've faced has been sourcing a suitable speaker for Earl. We have some pretty strict requirements for our audio system and have gone through numerous manufacturers in search of the best option. WIth limited internal space, side port access and waterproof requirements, we need a small speaker that is not only high in sound quality but also one that is loud enough to be heard in the great outdoors. After sampling various local speaker companies in Shenzhen, we've actually found a great U.S. firm that is helping us design a voice box that will meet our requirements. We are currently finalizing our specifications with them.
The last piece of the hardware puzzle is the connector for the custom antenna. This has proven to be a much more difficult feature than we had anticipated. Because our antenna is adjustable and we insist on having the ability to interchange customizable antenna, we have had to come up with some very creative solutions to accommodate this functionality. The locking mechanism for the SMA connector has to be extremely durable and fluid while remaining unobtrusive at the same time. This is much easier said than done, especially given the parameters of Earl's shell. Luckily, we have a solid team of engineers who have designed a custom connector to meet our specifications. We should have a final connector prototype to test by next week so that we can pop, lock and drop that antenna.
Besides juggling hardware development, we have been working non-stop on the software end of Earl. We know that without an amazing user experience, the hardware will be irrelevant. We've poured a ton of time and energy into what we think will be the most robust and sleek user interface available for the outdoor user. We want all the relevant data to be accessible and concise without having any unnecessary clutter. Earl will of course be customizable to each individual's preferences and intended usage. But we want Earl to be simple and elegant right out of the box so that you can be on the trail right away.
We know you are all eager for a timeline update. Unfortunately, our RF (walkie-talkie) team has required a little more time than we expected and we are awaiting the final module to be delivered to us to start the certification process. We are also in the final stages of negotiations with our tooling factory as we ramp up for mass manufacturing. Given the number of moving parts in this entire process, getting to this point has been a major feat in coordination and teamwork. You have all been more than patient and overwhelming supportive during this entire process and we can only ask you stick with us just a bit longer. We understand this is a lot to ask, but we think you'll be more than happy with the final result.
Everyone here is working extremely hard so that we can deliver the best version of Earl to each of you and so Jon can get back home to play with the real Earl.
March 4th, 2014
March Madness
Reinforcements have arrived! One of the initial members of Team Earl recently relocated to Hong Kong in order to help during the final stages of development. Tyson Fok has been integral in the early stages of development and PR for the crowd funding campaign. As he gets up to speed on all the current ongoings, update frequency and communication with backers will see a marked increase. We are very excited and happy to welcome him to the fray. 
Earl has become a bit like conducting an orchestra. Though a little chaotic and out of tune at times, our main partner has done an amazing job of coordinating all the individual teams developing each of the components for Earl. Our RF system is an engineering feat in and of itself. A local Shenzhen manufacturer of two-way radio modules has tackled the task of creating an all-in-one radio that will pass FCC, CE and C-tick requirements. Though we were promised a developer friendly module by early February, debugging proved to be more complicated than anticipated and took an additional few weeks to work out the kinks. But we couldn't be more pleased with the results. When we arrived at our office on Friday we were pleasantly surprised to see our walkie talkie team waiting with our module mounted on a demo setup with microphone and speaker. Still waiting for custom Android drivers to be built, this was a suitable alternative to finally test out Earl's radio system with the requisite, crystal clear, "Can you hear me now?". It was like witnessing the birth of our first born, only better! The next treat was to finally see data streaming across the airwaves from our new modules, no cell phone towers, no wifi, just Earl to Earl.
One of the big decisions we made early in development was to make the move from a fixed to a removable antenna system. We knew this would give users the flexibility to switch out antenna for clearer and longer range transmissions on more specific frequency ranges. We also wanted to make sure the antenna that Earl ships with would be top notch. Working closely with our tooling factory and a recommendation from our two-way radio manufacturer, we set out to develop a custom dual band (VHF/UHF) antenna. Because Earl can be used in landscape or portrait modes, we also had to design an antenna that adjusts to each mode. We chose to affix the antenna with a standard SMA connector on the back of Earl which allows for these multiple positions and stores nicely in the groove of Earl's hand grip when not in use. We have a few options for the connector and locking mechanism for the connection and will be visiting our tooling factory this Friday to discuss the details of manufacturing our new antenna.
Just a few more tweaks before we throw up version 1.5 of our site. We need final approval of the antenna system design with our tooling factory before preparing imagery. So in the meantime we have an updated list of the official specifications of Earl below:
Android 4.4 (Kit Kat)
6" Flexible, sunlight viewable, E-ink screen (1024x758) with front light
Glove friendly capacitive touchscreen
i.MX 6 DualLite 1 GHz Cortex A9 processor
1GB ram
16GB memory + microSD (up to 128GB)
WiFi 802.11 B/G/N
NFC with Android Beam
Bluetooth 4.0
ANT+
AM/FM/SW/LW world radio
2w two-way radio with 1w/0.5w low power modes
GMRS (USA/CA): 462 + 467 MHz
PMR446 (EU): 446 MHz
UHF CB (AU/NZ): 477MHz
VHF: 2m, 136-174 MHz
UHF: 70cm, 400-480 MHz
GPS with support for GLONASS (Russia), Galileo (EU) and Bedidou (China) locational satellite systems
9-Axis Accelerometer/Gyroscope/Magnetometer
Temperature, Humidity and Barometer (10cm resolution)
Wolfson WM8960 audio codec
Waterproof microphone and speaker, 1 watt
Vibration alerts
3.5mm TRRS headphone/microphone jack
Micro USB
Impact resistant solar panel, 22% efficiency rating
20+ hour Li-Ion 3000mAh removable battery
Quick Charging system with data support
Dual quick disconnect sling connectors
IP68 certified, Ingress Protection of dust and water up to 2 meters (6.6 feet) for up to 60 minutes
125mm x 178mm x 15mm (24mm w/antenna)
We're still waiting on a few more details to come in from our manufacturing partners so we can reassess our timeline. Since our walkie talkie module was delayed, we had to push back certification until the beginning of April. It will only take a few days to test and pass tests here in Shenzhen, after which we can submit for final approval. We'll be using this time to run through a few tooling tests so that we can start manufacturing in mid to late May. We have a few meetings this week and once we chat with everyone about their individual timelines, we'll post an update with the de facto schedule.
January 23rd, 2014
We're still here! Just busy beyond belief.  But there is light at the end of the tunnel!
I apologize for the lack of updates from our side. It's my fault. The past few months have snowballed as we pick up speed and try to integrate all aspects of this project into a single beautiful and functional package.  My team is reliant on me for posting updates, something that will be changing in the coming week as we streamline our process.
Our Chinese team will be out of the office for the next couple weeks observing Chinese New Year, providing me an opportunity to fly home to spend time with my team, family and Earl.  I landed in Salt Lake City on Tuesday morning after a marathon of flights. HKG - SLC, 26 hours in total, by way of Guam, Honolulu and Los Angeles. Needless to say I'm exhausted, only now have I finally adjusted from jet lag.
One of my main objectives while back in the states is to prep my team for the next few months. We now have a dedicated community liaison to handle future updates and communication with backers. He will be relocating to Hong Kong at the end of February which will help tremendously in the final stages of production. The team is currently heading to the Outdoor Retailer Winter Market to chat with some industry specialists and potential retail partners.
Though we've hit a few bumps in the road, Earl is coming together better than expected. It's really impressive seeing the amount of collaboration each component requires to bring Earl's overall design together. Some components have been discontinued while others didn't perform as expected. Having to find suitable replacements has yielded as-good or better components than we initially promised. Some of the suppliers we're working with have gone as far as to customize components. PVI, E-ink's parent company, has designed a custom screen using their latest advancements just for Earl. We've been fortunate to add features that were requested by backers themselves, making Earl more useful to everyday users.
Our major focus has been around hardware, most importantly the shell.  This has proven to be more challenging that first anticipated.  We've had a few hangups regarding some key features, working closely with our tooling factory to solve issues before the approaching Lunar New Year. The team has been in overdrive to finalize the design and managed to build a sample of the final shell so I could show our stateside team. The great thing is we've got a shell that will survive drops from 2 meters above the ground and for 60 minutes at 2 meters underwater. We added a simple locking hook design for attaching Earl from two points to backpack webbing systems, vehicle mounts and safety lanyards. In addition to the covered TRRS and USB ports, we've also added a quick connect charging point to allow external connections to accessories without compromising the integrity of Earl's sealed shell. Below is a few shots of the new shell with dummy screen and solar panel. Coloring solely for prototype purposes.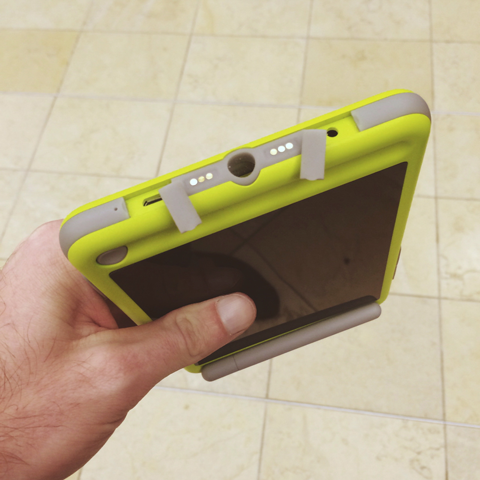 When our China team gets back to work after the break, they'll be working on the layout of Earl's PCB to fit within the final shell design. Up until now, we've been using larger debugging boards split into the major components to work out any kinks in the electronics system. The team working on the two-way radio system has completed debugging the module that will give Earl it's walkie talkie functions. I've been promised a final-spec, fully functional prototype by the first week of March. If everything goes as planned and the final design meets our requirements, we plan to begin tooling up for manufacturing while we await approval and certification from the FCC (US), IC (Canada), CE (Europe) and C-tick (Australia/New Zealand) through a local testing firm in Shenzhen.
I know that things have taken longer than when we first envisioned, but at the beginning we planned to use pre-defined components. After we added a partner for manufacturing, we realized Earl's system would require being built from the ground up. The delays have placed manufacturing around the middle of April. We're pushing hard to get Earl into everyone's hands ASAP.  I'm personally anxious to get out of the smog and into the forest again.
We'll be launching a fully redesigned website prior to launch with promo videos, user accounts and a proper customer support system, but until then we'll be making a soft-update to the website to showcase the final design. I have a meeting this evening with our backend engineer who's been working to build an interface for users to manage their apps, maps and data from Earl. For those that have had issues trying to reach us, I apologize. I'm currently prepping a new member dedicated to handling messages along with an easier system to reach us. Our email address will still remain feedback@meetearl.com
For those requesting address changes, we'll be sending emails to all backers with a link to our new site where current addresses can be updated prior to shipment.
Thank you all again for your continued support. Earl is going to be well worth the wait!
December 15th, 2013
Bah! Hum-Debug!
Season's Greetings! From the electrical, mechanical, rf and software engineers, to our cartographer and application developers, the team here in Shenzhen keeps our week filled with meetings. On top of those directly involved, many hands play an essential role in Earl's development. The sourcing agent at our partner firm has been a life saver. Our original plan was to use as many prebuilt components as possible. However, we soon realized how difficult not only building, but also sourcing can be for a startup venturing into the world of electronics. Many of the original components we planned to use have been updated with newer versions, but a few have become obsolete, sending our team on scrambling to find replacements that meet our standards. Depending on the component, lead times can go from weeks to months.
The coordination of Earl's development teams has allowed them to analyze potential issues and mitigate delays before they become something major. Some of these changes were requested by users. For example, we've upgraded the original pressure sensor to the MS5611, giving Earl the ability to sense resolution changes down to 10 cm. Other changes are due to minimum order requirements. The GPS chipset we have selected allows for tracking updates of up to 10 Hz (10 times per second, up from 5) and adds support for the Galileo (EU) and Beidou (China) global navigation satellite systems in addition to GPS (US) and GLONASS (Russia). The low power requirement of Earl made the Wolfson WM8960 audio codec a no brainer. Coupled with a 1 watt waterproof speaker, users will have crystal clear audio in any condition.
With components finalized, we've been able to go through a couple revisions of Earl's PCB (pictured above). Although it's not quite ready for prime time, it's extremely exciting to see thousands of hours of engineering placed neatly across our very own PCB. This particular board is used for debugging Earl's system and finalizing our BSP (board support package), the Android side of Earl.
The support here in China has been beyond amazing. Many of the factories we've visited have opened up their teams to design components just for Earl. The custom solar panel used in Earl is built from 22% (up from 18%) high efficiency solar cells while reducing the total thickness to half of the original panel we planned to use, saving weight.
One of our biggest challenges has been Earl's shell. Not to be overlooked, the one thing that will render Earl useless is a failure of the case holding it all together. We've spent the last two months working with our tooling factory to design the perfect shell. We've settled on a shell made of a Polycarbonate + ABS blend for high durability and impact resistance in both high and low temperatures while keeping it lightweight. Along the edge, Earl's buttons and port covers will be made from a durable material called TPU, an elastic polyurethane similar to silicone rubber without the sticky feeling. When we finally go into production of the shells they'll all start off as one color and be sent off for finishing with a colorful soft-touch coating. We've got a meeting on Wednesday for what we expect to be the final shell design. Should we give the approval, we'll post some shots with the color survey we promised last month.
I can't imagine where we would be today had we not chosen to partner with an established firm here in China. The language barrier can be overwhelming in and of itself. But having a local team with existing relations in the electronics industry has relieved us of so many unforeseen issues. It's difficult to describe the big picture in just a few paragraphs. For those interested in gaining a bit of perspective regarding the way things run here, you can check out this video that talks a bit more candidly about the manufacturing experience in China. via Make
We'll be working day and night throughout the holidays. We're pushing to get Earl done so we can be on the trails when the snow melts. Until our next post, be safe and Happy Holidays!
November 15th, 2013
A few days, plus two weeks… Here in China we essentially have four teams working on Earl, leaving us scrambling amongst the 100-million residents of the Guangdong province. At our partners office in Shenzhen we have our electronics design and mechanical engineers. Both of these teams have been working together to get Earl's physical design ready to meet YOU! The exterior shell plays a huge role in how the internal PCB is designed. We want Earl to be rugged. Using a flexible screen that incorporates a back-panel made of plastic instead of glass, bumps and drops won't render Earl useless when you most need it. The IP-67 rating applies only to the ingress of solid particles and liquids. We need Earl to survive a fall, so additional care has been taken to ensure that when, not if, you drop Earl, you'll pick right up where you left off. The removal of the kickstand gave us some space to incorporate a field replaceable battery hidden under the solar panel that will keep Earl running no matter where you are. Across Shenzhen, Earl's RF team has some of the most challenging tasks at hand. Our originally grandiose idea for Earl's radio has met its biggest opposition, the FCC. The rules and regulations set in place by the FCC currently limit what Earl's radio is certified to be used on. In order to market Earl to the general public, Earl will be certified under FCC Part 95A and Part 90. FCC Part 95A covers 15 GMRS channels in the 462 MHz range. While most GMRS radios also include certification for use on FRS frequencies as well, Earl's antenna is designed to be removable (we'll explain this in a moment). Per FCC Part 95B, the antenna of an FRS radio must be an integral part of the transmitter, i.e., non-removable. As for MURS radios, they have another set of rules. FCC Part 95J states that MURS radios shall not be certified if equipped with a capability not listed under MURS frequencies. Hmm... But here comes the good news. Earl meets FCC Part 90 requirements. The RF system we're using is essentially two radios in one. Earl transceiver works on both the 2m (136-174 MHz) and 70cm (400-480 MHz) bands. The longer wavelength of VHF (2m) allows for better propagation over small hills and through forests. The shorter wavelength of UHF (70cm) allows for better propagation through buildings and urban areas. We wanted the best of both worlds and a fortunately the FCC does allow a radio to be both Part 95A and Part 90 certified. Here's the downside. To transmit on GMRS frequencies, the FCC requires users (of any GMRS radio) to pay $85 for a license. This license covers you and your family for five years, no test necessary. For additional frequencies in the 2m and 70cm bands an Amateur Radio license is required. First time users are required to pay $14 and complete a 35-question multiple choice written exam. The license grants full operating privileges on all amateur bands above 30 MHz. (Note, these regulations only apply to the use of Earl within the USA) Earls RF output power has been trimmed from 5 watts down to 2 watts. Supporting 2w, 1w and 0.5w power modes. There were a number of factors leading us to this decision. The number one concern was battery life. Two-way radio systems use a lot of juice. While radio manufacturers may claim that their radio will last 12 or more hours, remember that the battery duty cycle assumes 5% for transmission, 5% for reception and 90% in standby. A 5w radio would require a significantly larger (and heavier) battery, running at 7.2v, instead of the 3.8v battery Earl's system is designed to use. All that extra power increases the risk that Earl may become inoperable until the solar charging system has time to replenish the battery. But there's always compromise. Earl's included antenna is removable. Capable of transmitting on both 2m and 70cm bands, users that wish to increase the Earl's range will be able to attach higher gain antennas via an SMA connector. Bubble pack GMRS and FRS radios are limited by the FCC to using non-removable antennas, limiting their effective transmission range. That 5w radio with fixed antenna has an ERP (effective radiated power) of around 1.5 watts. While many of these radios advertise up-to XX miles, two-way radios are line of site. Due to the curvature of the earth, two users standing on flat ground, have an effective transmission range of around 6 miles. By increasing the antenna gain and adding elevation to your transmission point, we can increase the range of Earl much much further. Alright, enough of the RF system. Back in Guangzhou our software team is tuning Android to run smoothly on Earl. They've been hard at work building the API that runs Earl's Eink display. Forget about what we originally said about Android 4.1, we're upgrading Earl to run Android 4.4 at launch. The latest and greatest from Google brings more functionality to Earl straight out the gate. Designed with low power and low memory devices in mind, Android 4.4 adds sensor batching, allowing developers to control the interval at which sensor readouts are received. Building on 4.3, Bluetooth Low Energy devices are now fully supported through Android. Developers will have access to almost every sensor used in Earl's through Android's standard API's including motion, environmental and position sensors. Step detection and counting have been added in Android 4.4 and Earl's NFC system now has the ability to emulate host cards. Users will be able to store payment, transit and access cards while keeping your real wallet from getting soaked. Application developers can also take advantage of Android 4.4's new full screen mode to immerse users in their application while hiding system bars from view. A few new changes, but we think you can all agree that they're for the better. We can't wait to see what cool new applications will utilize these features in a way other smart devices can only dream. Thanks for being an essential part of Team Earl!
October 28th, 2013
Ch-Ch-Changes
The past few weeks have been some of the busiest I have experienced since I arrived in China at the beginning of summer. It's really amazing seeing Earl come together. Our initial PCB design was reworked by our partner here in Shenzhen and then sent all the way back to the USA to Freescale for approval. We're happy to say that our current design includes most of the features we originally set out to incorporate into Earl. After much discussion and testing we made the decision to remove a few features:
Infrared blaster. Seeing that very few devices in the outdoors utilized infrared for communication, in addition to the limited range, we nixed it.
3d joypad. With a larger touch area due to the new capacitive system used in Earl along with the additional buttons built into Earl's shell, we felt a joypad was unnecessary.
Anemometer. Unfortunately the performance of the design we were testing was unreliable and a little power hungry. We plan to offer a simple windmill anemometer as an Earl accessory in the future.
Kickstand. A difficult decision. After discussing other options with our MD engineers, the risk of damage or loss of the solar panel outweighed the benefits of keeping it. We opted to keep Earl compact and rugged.
Designing Earl's IP67 shell to withstand the elements requires our mechanical and electrical engineering teams to work in harmony. While most components are safely tucked away inside its rugged shell, others, like Earl's RF antenna, microphone, speaker, and weather sensors (temperature, humidity and barometer) require a location away from interference with access to the outside world. Some components require a hybrid solution. The TRRS headphone jack, micro USB port and microSD expansion slot need to be easily accessible to the user but also protected from the elements. We integrated some protective flaps to keep water, dust and mud from clogging and blocking access to these connections. We've replaced kickstand with a user accessible battery compartment that allows easy replacements of the rechargeable Li Ion battery. We also designed a new antenna for Earl's RF walkie talkie system that neatly tucks away when not in use. We'll talk more about Earl's walkie talkie in the next update!
To help protect Earl's screen and solar panels from scratches we've recessed them into the shell and will be offering reusable pre-cut films for additional protection. Since switching from an infrared touchscreen system to a capacitive one, Earl's screen is now flush with it's front panel, similar to other smart devices on the market. This allows users to swipe from offscreen to open hidden menus, flip pages or change applications. We replaced the original 3d joypad with a touch area that features Android's "home", "back", and "menu" buttons. In addition to the standard system buttons, we've added four buttons along the sides of Earl's case for PTT (push to talk), volume and SOS. Users and developers will be able to map these buttons to other functions or macros. Earl's power button will be located next to it's protected connector ports and includes a switch to lock orientation, applications or prevent accidental presses.
But wait, there's more! We finally got a sample of Earl's new screen. PVI, E-ink's taiwanese parent company has sent us some samples of their new flexible screen. The new screen uses the E-ink's Regal waveform technology which dramatically reduces the need for refreshes, allowing for a smoother viewing experience. Even more durable than the LG panel we were using, we're excited to put this new panel into action.
We can't believe how fast the last month went by. Later this week we'll be posting an update about Earl's sensors and radio systems. We're also planning to throw up a color questionnaire. What colors would you like to see Earl released in?
Thank you all for your patience!
October 1st, 2013
oktobEARLfest
There has been no shortage of excitement since our last update. Between the national holiday of the mid-autumn festival and Typhoon Usagi, local business hours have been unpredictable, to say the least. Fortunately, we have been making solid progress on Earl's development despite these intermittent closures.
The hardware engineering team has made some impressive advancements with their iMX6 development and we have some early demo units we've been testing. It looks like we should have an early SDK by mid-October, enabling us to begin app development with a tuned E-ink display API. Team Earl is extremely happy with the progress thus far and will be meeting with the mechanical design engineers next week to finalize Earl's case design. With a myriad of sensors and ports (USB, TRRS, and antenna), the proper and most efficient placement of these components is an engineering feat in and of itself.
We are entering the core stage of development and very excited about how Earl is coming together. We can't wait to show off Earl's capabilities and should have demo units ready sometime in November. We'll be sending them out to field testers to put them through the paces while the team fine tunes Earl's final design here in China.
The beginning of October marks China's National Day, teeing off a week long celebration that commemorates Chinese heritage. Even though businesses will be closed again, I'll be busy prepping MD files for the team and hopefully, working on my Mandarin!
Until next time!
謝謝 / 谢谢 (Thank You!!!)  Pronounced, xie xie.
Pictured: Sophia (project manager), Me (team earl), Ocean (rf engineer), Lufee (lead engineer)
September 9th, 2013
TOUCH TECH
One of the must-have requirements we knew Earl needed was a glove friendly touch screen. We anticipated users from all walks of life, in all kinds of conditions, interacting with Earl. But the one thing we didn't want was to force users to buy special accessories to use our design. Earl needs to work with any glove. Well, IR (infrared) touch solved that, as most capacitive touch systems were incapable of sensing fingers through most gloves. 
However, as we've developed Earl further, it has become apparent that IR may not be the best option after all. Our partner in China manufacturers a few devices that utilize IR tech and after further discussion, their engineers have expressed reservations in using this technology with this type of device. Guaranteeing a high-level weatherproof seal with IR would be difficult as Earl is designed to be rated at IP-67 against water, dust and shock. The additional layers for the IR diffuser add more access points which could potentially break down after heavy usage and leave Earl susceptible to contaminants.
This touch screen issue has turned out to be a blessing in disguise as we have discovered an even better alternative for Earl. We have decided to utilize a touch system recently developed by Cypress Semiconductor. Cypress is the world leader in capacitive touch. Their latest generation of sensors are a perfect match for Earl. TrueTouch® capacitive systems can sense gloves up to 5mm thick allowing your hands to stay warm while using your Earl tablet in the coldest climates. TrueTouch® can even sense fingers hovering over the screen, providing a new range of gestures for developers to use in apps created for Earl. Capacitive systems use a film that is layered directly over the screen, allowing for Earl to meet our IP-67 requirements. Below is a quick video showing the glove capabilities of this sensor. I think you will all agree that this systems rocks!
I hope you are as excited about these new developments as we are. We have also upgraded our servers and both our website and forum are running smoothly again. We apologize again for any difficulties you may have experienced with our website. 
Having spent the last couple weeks in the U.S. reconnecting with the Earl team here, I will be heading back to Shenzhen, China on Thursday to oversee final development and production. I'm spending these last few days with the real Earl, as a friend of mine will be his foster parent while I am away. Unfortunately, I can't bring him to China with me this time around. But from the looks of it, I don't think he minds too much given his temporary home.
August 26th, 2013
LONG OVERDUE, BUT STILL ON TRACK
I would like to personally apologize to each of you for the lack of communication.  There is no excuse for our silence and we can only hope to reestablish your trust through an improved system of interaction from here on out.
When I decided to dedicate myself to this project over two years ago, I knew there would be challenges and difficulties.  I surrounded myself with good people and worked tirelessly to get the crowdfunding off the ground.  With so much momentum and support, we were eager to get into final development and production. Unfortunately, we underestimated the resources required for social media relations following our campaign.  This was a mistake on our part.  The overwhelming volume of support and suggestions was tremendous and helpful, but we didn't have the resources to address every comment.  And once personal threats, allegations of fraud and claims of misuse of funds started rolling in, we had to step back and reevaluate the best way to move forward.  Granted, a lot of this could have been avoided with more frequent and consistent communication; this is obvious now.  To put it simply, we were overwhelmed and handled the situation incorrectly.   We sincerely apologize and pledge to improve the dialogue with those willing to be patient with us.  We hope you will give us an opportunity to earn your support again.
To address the recent issues with our website and forum, we want to assure all of you that we have never deleted any comments on our page or forum and have never had any intentions of going offline.  Though it may not seem like it, we are listening to your feedback and it's an invaluable resource for our development process.  Your voices have been heard, and we want to turn a fresh page with the community.   We've been trying to get the old forum back up since it went down. It's still intact, with each and every comment, but for some reason is failing our servers diagnostics checks.  If we can't get it back up in the next couple days, we'll launch another one temporarily.  Either way, we give our word to be more active in the forum and give you proper regular updates. 
As we mentioned in our last update, we have enlisted an engineering firm in Guangzhou, China to produce Earl.  While they currently manufacture devices that run on Android 4.0 and the i.MX6 platform, Earl is a unique tablet that requires extensive engineering to include the additional sensors and radios.  With so many components, placement is key and RF interference is a major obstacle.  Fortunately, our new partners have a dedicated RF team to make sure we address each issue before sending Earl off to be certified.  We are trying to create a device that is unprecedented and they have stepped up to the task.  However, this process is going to take more time than we anticipated.  At this time, we estimate that manufacturing will start around the beginning of January.  I'll be living in Shenzhen for the duration of development so I can be close to our engineers and approve/test each revision of Earl.  This will shave off a couple of revisions and save time, but we want to make sure every component in Earl meets our requirements.  Again, we know this is last thing you all want to hear.  But Earl WILL be worth the wait!
The following chart is our development timeline for the next six months.  We're well on our way to getting Earl into production.  As you can see, the next six months are going to be packed with development.  From Hardware to Software, each stage has its own requirements to proceed.
This project has been the most challenging and ambitious endeavor I've taken on.  I hope you'll continue to stick with us as we create a truly unique product.  We cannot do this without you and we won't forget that.
Thank you for your patience and support.
July 21st, 2013
Greetings from Guangzhou, China, our temporary home while we build Earl!
Please accept our apology for the delay since our last update.  We have been working non-stop to get Earl ready for production.  Though we've had our share of set-backs, we are now making some great strides here in China!   After going back and forth with an engineering firm in Bangalore, India, we decided to search for a more suitable partner for manufacturing Earl.  At the beginning of July we packed up and headed out to China to meet with several manufacturers of tablets and e-readers. It was great to finally meet face-to-face with some very talented engineers and tour several factories.
While most of the firms we spoke with have the capabilities to build Earl, only three firms had solid experience developing with E-ink and only one of which is working with Android 4 and the i.MX6 platform.  After a few meetings with their team, we agreed to partner with their firm for ODM (original design manufacturing) of Earl.  Using our specifications, their team will build and load Earl with a special version of Android adapted for E-ink with our software and provide our developers with an SDK for building applications.  
Unfortunately, going through this process means the release of Earl is going to be slightly delayed.  We're really pushing to start production sometime in August.  To ensure the most efficient timeline, we have made China our base for the time being so that we can oversee every aspect of the final development of Earl.  We have another meeting with engineers in the morning and should have a sample PCB sans RF ready by the end of the week.  We decided to build the RF system as a separate module which will allow us to use the base system with several different configurations.
We are planning an initial run of 5000 units to satisfy our backers' orders.  We'll also be sending out units for developers to get started on building new and exciting applications for Earl. The beauty of our new partnership is that once the final hardware design is ready for manufacturing, their contracted factory can start production immediately. The machines used to build Earl can assemble a full PCB in around 40 seconds.  Each unit is then sent through a gambit of tests to ensure that they are ready for primetime before shipping via air back to the states for fulfillment.   It's pretty cool to see these factories at work.
The next few weeks will be extra busy for our team, between coordinating software development for the hardware engineers here and finalizing design details, this project promises to be a little chaotic. We haven't had much time to get on the forums or post updates.  The internet in China can be painstakingly slow at times even when using a VPN, reading the forum and replying to emails can be a challenge.   But rest assured, we're working hard to get Earl into backers hands ASAP.  More importantly,  we want to get Earl right the first time and create something we are really proud of.  By sticking close to the factory we can make sure no corners are cut and that Earl meets all of our expectations. 
Thank you for being patient while we build Earl.  We can't wait to show the world what a few thousand people can build together!
June 21st, 2013
Exciting news!  Our forum is now up!
forum.meetearl.com
Please join us and help us build the Earl community! It's a great place to learn about and contribute to everything Earl.  Check it out for updates, press, questions, developing, and much more. 
June 12th, 2013
Updates! Yes, finally!
What began as a humble promise to dedicate my time to create something I believed in, has now evolved into this wonderful global community. To our friends and family, to every blog and news source that picked us up, and of course, to each and every backer around the world, your collective belief and support of this project has far exceeded our hopes and we cannot thank you enough.
The outpouring of support and feedback from all of you will allow us to produce an Earl tablet that is even better than we initially envisioned. Hikers, bikers, gliders, sailors, kayakers, hunters, fishermen, search and rescue, forest rangers, surveyors, and even the military all want Earl! We had no idea so many different groups of users would be interested in Earl.
We want Earl to be the best device on the market and we need your help, so we're building a new community forum for backers and developers to mingle. Our current feedback system is extremely inefficient and we're hoping this will make the entire process much more streamlined. We were pleasantly surprised but ill prepared for the volume of inquiries and have been doing our best to respond to all of your questions. We apologize for the lack of updates thus far, but we assure you, we are listening! We'll send everyone a link for the forum as soon as it goes up.
Most of the feature requests over the last month are simple software based changes and though we may not have every feature when we launch, we plan to incorporate as many as possible. One of the modifications is a direct result of the overwhelming support from the glider community. A simple change to the internal pressure sensor was all that was needed to incorporate this whole new group of Earl users. We've also been working on a partial redesign of Earl's RF system which will add SDR receiving functionality and the ability to function as a Personal Locator Beacon. A dedicated external antenna connection has also been added to increase the range of Earl's radio capabilities. Thanks to your recommendations and ideas, Earl is going to be an even better survival tablet.
So what's next? Hardware!!! We've sent Earl's initial PCB design all the way around the world to India. We're working with a Freescale certified partner based out of Bangalore, the tech hub of India. Over the next few weeks they will finalize Earl's guts, making sure all of its sensors and radios talk politely and prepare Earl for certification. Afterwards, they'll help us build an SDK that we can give out to developers to build killer new apps. We're designing a dev wiki to walk even the most novice coder through creating their first application for Earl. I'll be flying out to India in the next few weeks so I can be hands-on throughout the process.
As for manufacturing, we first entertained the option of production in China, but have decided to go with our neighbor to the south, Mexico. Labor rates south of the border are more stable and shipping times from factory to warehouse can be cut from a few weeks to a few days. Being a short drive from the border, production will be much easier to manage and monitor.
As you can see, we are really excited to make this tablet the best it can be. And none of it would be possible without your support and enthusiasm for this project. Please stayed tuned for more updates and keep spreading the Earl love! Although our crowdfunding campaign has expired, Earl is still available for preorder at fifteen percent off its retail price.
On behalf of the real Earl and the entire Earl team, Thank you!
May 5th, 2013
We're on track to start production in July and if all goes to plan, we'll have Earl in your hands before the end of Summer. Below we've made a few quick Vine videos to give you a peak at Earl's development. In the coming weeks and months, we'll be using this page to introduce you to our team and keep you updated on Earl's journey.
Top